Short CV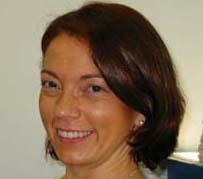 Monica Bordegoni is full professor at the Department of Mechanical Engineering, School of Design of Politecnico di Milano.
She coordinates research activities on the following topics: virtual prototyping, virtual reality and augmented reality technologies and applications, multimodal and multisensory interaction, haptic interaction, user experience design, emotional engineering.
Her research activities started addressing topics related to human-computer interaction including the study of a system for the semi-automatic generation of graphical user interfaces, novel techniques for human-computer interaction, as gesture recognition and 3D input, integrated with tools for product design. At the beginning of her carrier, M. Bordegoni has been awarded an ERCIM (European Research Consortium for Informatics and Mathematics) fellowship for two years, visiting RAL-UK, CWI-the Netherlands, GMD-Darmstadt, and developing research activities on interaction methods, including multimodal interaction, gesture recognition, novel Virtual Reality technologies in interaction. Then, she has focused her research on the evolution of user interaction with design tools and on the application of a user-centred approach to the design of user interfaces.
In all her carrier, Prof. Bordegoni has been involved in more than 20 research projects funded in competitive contexts, gaining M€2.5 total funding. She has participated to and has been the coordinator of research projects funded by the Italian Ministry of University and Research (MIUR) and by the European Union. In addition, she has had several direct research contracts with Italian companies, mainly in the areas of automotive and domestic appliances (as Lamborghini, Ferrari, Avio, Bombardier, Whirlpool, Indesit, Siemens, ...). Currently, she is coordinating the Virtual Prototyping research group consisting of 15 young researchers and PhD students with a multi-disciplinary background, including mechanical engineers, industrial designers, cognitive psychologists. She transfers her knowledge to young researchers through teaching in M.Sc and PhD courses and tutoring PhD students at the School of Design and at the School of Industrial Engineering.
Research Projects
Principal Investigator on grants
coordinator of the European project FP6-IST SATIN - Sound And Tangible Interfaces for Novel product design, www.satin-project.eu, 2006-2009;
coordinator of the national project FIRB PROGIMM – Tools for immersive product design funded by the Ministry of Research, www.kaemart.it/progimm, 2007-2010;
coordinator of the national project MIUR PRIN2006 PUODARSI – User-oriented product development based on Augmented Reality and interactive simulation, 2006-2007;
coordinator of the national project MIUR-COFIN2001 - Study and development of a model and of an integrated environment knowledge-based for innovation processes, 2002-2003;
deputy coordinator of the European project FP6-IST T'nD - Touch and Design, www.kaemart.it/touch-and-design, 2003-2006.
Current projects
participation to Vis4Factory project funded by MIUR – 2012-2014;
participation to STIMA project funded by Lombardy Region – 2011-2013.
National/International Service
Member of academic boards
member of the academic board of PhD in Mechanical Engineering, PoliMI (2012 -);
member of the academic board of PhD in Design, PoliMI (2010 -);
member of the academic board of PhD in Virtual Prototypes and real products, PoliMI (2001 - 2010).
Member of research project evaluation boards
appointed by the European Commission as evaluator of project proposals in the IST-FET, since 1999;
appointed as independent expert for the evaluation of proposals for the Fund for Scientific Research (F.R.S.-FNRS), Belgium, since 2011, and for the Georgia National Science Foundation (GNSF), since 2010.
Department/University Service
2011- Chair of the Scientific Board, Department of Mechanical Engineering, PoliMI;
2011- Rector's delegate for scientific relations and cooperation with India, PoliMI;
2006-2010 Member of the administrative board of the Department of Mechanical Engineering, PoliMI.

Review Service
She is and has been reviewer of articles for scientific journals: Int J. of Computing & Information Science in Engineering, Computer Aided Design Journal, Computers & Graphics, Int J. of Human-Computer Studies, Virtual Reality Journal, Advanced Engineering Informatics, J. of Visual Languages and Computing, Multimedia Systems, Transactions on Haptics; IEEE RO-MAN (2010-), Concurrent Engineering (2010), ASME-IDETC (2008-) ASME/IMECE (2011), TMCE (2008-), HCI International (2007, 2009, 2011), Virtual Concept (2008, 2010).
Society Memberships

Co-chair of the DesignSociety Special Interest Group on Emotional Engineering (EE-SIG), 2012;
Chairperson of the ASME-CIE VES (Virtual Environments and Systems) Technical Committee, 2012-2013;
Member-at-large of the Executive Committee of the ASME-CIE Division (2012-2016).
Design methods,
Virtual Prototyping of products,
Multimodal and multisensory interaction,
Haptic technologies and interaction,
User Experience Design,
Emotional engineering,
Application of methods and tools in the engineering and industrial design sectors.
FP6-IST SATIN project (Sound And Tangible Interfaces for Novel product design) link
FP6-IST T'nD (Touch and Design) link
FP6 VIVACE project
FP6 INTEROP network link
COFIN2001 IKE project
MUR-PRIN- PUODARSI project link
PRIN2003 project
FIRB SIMBAR project link
MUR-FIRB- PROGIMM project link
View all courses
School of Industrial Engineering School of Design
DesignSociety SIG on Emotional Engineering, Workshop, Bergamo, 19 June 2013;
DesignSociety SIG on Emotional Engineering, Workshop, Milan, 19 November 2012;
Workshop on Haptic Interaction Design, IEEE Haptics Symposium, Vancouver, Canada, 4-7 March 2012;
ASME-WinVR (World Conference on Innovative Virtual Reality), Milan, June 2011.
Session Chair of:
Virtual Environments and Systems Symposium - ASME/IDETC CIE 2013, Portland, August 2013.
Virtual & Augment Reality Symposium - ASME-ISFA 2012 (International Symposium on Flexible Automation), St Louis, Missouri, June 2012.
Virtual Environments and Systems Symposium - ASME/IDETC CIE 2012, Chicago, August 2012.
In addition, Prof M. Bordegoni organizes the International Summer School on Virtual Prototyping, which is held yearly since 2009.
e-mail:monica.bordegoni@polimi.it
address: Politecnico di Milano, Dipartimento di Meccanica, via La Masa, 1 - 20156 Milano (Italy)
phone number: +39 02 2399 8260
fax number: +39 02 2399 8282
linkedin profile: link
Monica Bordegoni has published a total of about 230 scientific papers, where more than 40 articles have been published in scientific journals and more than 30 in proceedings of Scopus-indexed conferences (including ASME, SPIE, IEEE conferences) on the major research subjects.
Download all Bibtex References

Book Chapters

G. Caruso G., U. Giraudo U., F. Ferrise F.,

M. Bordegoni

, Ergonomic Interactive Testing in a Mixed-Reality Environment, Lectures Notes in Computer Science, Springer Berlin, vol. 4563/2007, pp. 431-440, ISBN 978-3-540-73334-8.

M. Bordegoni

, U. Cugini, Designer-Centered Haptic Interfaces for Shape Modeling, Lectures Notes in Computer Science, Springer Berlin, vol. 4563/2007, pp. 441-450, ISBN 978-3-540-73334-8. Cit.: 2.

M. Bordegoni

, Product virtualization: an effective method for the evaluation of concept design of new products, Innovation in Product Design – from CAD to Virtual Prototyping (Bordegoni M., Rizzi C. Eds.), Springer, August 2011, ISBN: 978-0-85729-774-7.

M. Bordegoni

, Exploitation of Designers and Customers' Skills and Creativy in Product Design and Engineering, chapter in "Emotional Engineering: Service Development", (S. Fukuda Editor), Springer, 2010.
Book Innovation in Product Design – from CAD to Virtual Prototyping,

M. Bordegoni

and C. Rizzi Eds., August 2011, ISBN: 978-0-85729-774-7.

Journals

M. Bordegoni

, F. Ferrise, M. Covarrubias, M. Antolini, Geodesic Spline Interface for haptic Curve Rendering, IEEE Transactions on Haptics, 4(2): 111-121, 2011.
M. Carulli,

M. Bordegoni

, U. Cugini, An approach for capturing the voice of the customer based on virtual prototyping, Journal on Intelligent Manufacturing, Springer, DOI 10.1007/s10845-012-0662-5, 2012, ISSN: 0956-5515, pp. 1-19.
F. Ferrise,

M. Bordegoni

, S. Graziosi "A method for designing users' experience with industrial products based on a multimodal environment and Mixed Prototypes", Computer-Aided Design and Applications, 10(3), 461-474, 2013 doi: http://dx.doi.org/10.3722/cadaps.2013.461-474
F. Ferrise,

M. Bordegoni

, U. Cugini "Interactive Virtual Prototypes for testing the interaction with new products", Computer-Aided Design and Applications, 10(3), 515-525, 2013 doi: http://dx.doi.org/10.3722/cadaps.2013.515-525

M. Bordegoni

, U. Cugini, F. Ferrise "Requirements for an enactive tool to support skilled designers in aesthetic surfaces definition", International Journal on Interactive Design and Manufacturing, 6 (2), 83-91. Springer Paris, doi: http://dx.doi.org/10.1007/s12008-012-0142-3

M. Bordegoni

, F. Ferrise "Designing interaction with consumer products in a multisensory VR environment", Virtual and Physical Prototyping, Taylor and Francis, 2013, In Press, doi: http://dx.doi.org/10.1080/17452759.2012.762612

M. Bordegoni

, U. Cugini,"Tools for industrial design: From barriers to enablers of creativity", Computer-Aided Design and Applications, 7 (5), pp. 711-721, 2010.
G. Guidi, M. Russo, G. Magrassi,

M. Bordegoni

, "Performance evaluation of triangulation based range sensors", Sensors, 10 (8), pp. 7192-7215, 2010.

M. Bordegoni

, F. Ferrise, M. Covarrubias, M. Antolini, "Haptic and sound interface for shape rendering", Presence: Teleoperators and Virtual Environments, 19(4), 341-363,The MIT Press, August 2010, doi: http://dx.doi.org/10.1162/PRES_a_00010

M. Bordegoni

, F. Ferrise, M. Ambrogio, F. Caruso, F. Bruno, "Data exchange and multi-layered architecture for a collaborative design process in virtual environments ", International Journal on Interactive Design and Manufacturing, May 2010, Springer, doi: http://dx.doi.org/10.1007/s12008-010-0092-6
B. Rodrigues de Araújo, T. Guerreiro, M. J. Fonseca, J. A. Madeiras Pereira,

M. Bordegoni

, F. Ferrise , M. Covarrubias, M. Antolini, "An Haptic based Immersive Environment for Shape Analysis and Modeling", Journal of Real-Time Image Processing - JRTIP, 5(2), 73-90, ISSN: 1861-8200, 2010, Springer, doi: http://dx.doi.org/10.1007/s11554-009-0139-8

M. Bordegoni

, U. Cugini, "A CAD system based on haptic modelling for conceptual design", International Journal of Product Development, 11 (1-2), pp. 25-46, 2010.
M. Bertoni,

M. Bordegoni

, U. Cugini, D. Regazzoni, C. Rizzi, "PLM paradigm: How to lead BPR within the Product Development field", Computers in Industry, 60 (7), pp. 476-484, 2009.

M. Bordegoni

, U. Cugini, G. Caruso, S. Polistina, "Mixed prototyping for product assessment: A reference framework", International Journal on Interactive Design and Manufacturing, 3 (3), pp. 177-187, 2009.


M. Bordegoni

, U. Cugini, "The role of haptic technology in the development of aesthetic driven products", Journal of Computing and Information Science in Engineering, 8 (4), 2008.
U. Cugini,

M. Bordegoni

, "Touch and design: Novel haptic interfaces for the generation of high quality surfaces for industrial design", Visual Computer, 23 (4), pp. 233-246, 2007.

M. Bordegoni

, U. Cugini, "Haptic modeling in the conceptual phases of product design", Virtual Reality, 9 (2-3), pp. 192-202, 2006.

M. Bordegoni

, G. Colombo, L. Formentini, "Haptic technologies for the conceptual and validation phases of product design", Computers and Graphics (Pergamon), 30 (3), pp. 377-390, 2006.
G. Faconti, M. Massink,

M. Bordegoni

, F. De Angelis, S. Booth, "Haptic cues for image disambiguation", Computer Graphics Forum, 19 (3), pp. C-169-C-178, 2000.

M. Bordegoni

, U. Cugini, "Feature-based assembly in aeronautics design: From concepts development to formalization", International Journal of Vehicle Design, 21 (2-3 SPEC. ISS.), pp. 228-242, 1999.

M. Bordegoni

, G. Faconti, S. Feiner, M.T. Maybury, T. Rist, S. Ruggieri, P. Trahanias, M. Wilson, "A standard reference model for intelligent multimedia presentation systems", Computer Standards and Interfaces, 18 (6-7), pp. 477-496, 1997.
G. Faconti,

M. Bordegoni

, K. Kansy, P. Trahanias, T. Rist, M. Wilson, "Formal framework and necessary properties of the fusion of input modes in user interfaces", Interacting with Computers, 8 (2), pp. 134-161, 1996.

M. Bordegoni

, "An Environment for the Specification and Recognition of Dynamic Gestures", Journal of Visual Languages and Computing, 5 (3), pp. 205-225, 1994.

International Conferences

F. Ferrise,

M. Bordegoni

"Fast Prototyping of Virtual Replica of Real Products", Proceedings of HCI International 2011, Orlando, Florida, USA, 9-14 July 2011

M. Bordegoni

, F. Ferrise, J. Lizaranzu "Use of Interactive Virtual Prototypes to define product design specifications: a pilot study on consumer products", Proceedings of IEEE - ISVRI 2011, Singapore, 19-23 March 2011

M. Bordegoni

, F. Ferrise, J. Lizaranzu "The use of Interactive Virtual Prototypes for products specification in the concept design phase", Proceedings of IEEE - VR 2011 poster session, Singapore, 19-23 March 2011
F. Ferrise,

M. Bordegoni

, J. Lizaranzu, U. Cugini "Simulation of the interaction with interfaces of industrial products in a multimodal environment", Proceedings of the International Conference on Research into Design (ICoRD '11), Edited by Amaresh Chakrabarti, Bangalore (India), 10-12 January 2011. doi: http://dx.doi.org/10.3850/978-981-08-7721-7_055
F. Ferrise,

M. Bordegoni

, M. Ambrogio, G. Caruso "AR application for pre-post processing in engineering analysis for non-expert users", Proceedings of the International Conference on Research into Design (ICoRD '11), Edited by Amaresh Chakrabarti, Bangalore (India), 10-12 January 2011 doi: http://dx.doi.org/10.3850/978-981-08-7721-7_054
M. Antolini, M. Covarrubias,

M. Bordegoni

, U. Cugini, "A framework for managing multiprocess applications based on distributed finite-state machine approach", Proceedings - IEEE International Workshop on Robot and Human Interactive Communication, art. no. 5598678, pp. 680-685, 2010.

M. Bordegoni

, U. Cugini, M. Covarrubias, M. Antolini,"A force and touch sensitive self-deformable haptic strip for exploration and deformation of digital surfaces" Lecture Notes in Computer Science (including subseries Lecture Notes in Artificial Intelligence and Lecture Notes in Bioinformatics), 6192 LNCS (PART 2), pp. 65-72, 2010.

M. Bordegoni

, U. Cugini, F. Ferrise, "Analysis of designers' manual skills for the development of a tool for aesthetic shapes evaluation", Proceedings of IDMME - Virtual Concept 2010, Bordeaux (France), 20-22 October 2010

M. Bordegoni

, F. Ferrise, J. Lizaranzu, "Multimodal interaction with a household appliance based on haptic, audio and visualization", Proceedings of IDMME - Virtual Concept 2010, Bordeaux (France), 20-22 October 2010
F. Ferrise,

M. Bordegoni

, J. Lizaranzu, "Product design review application based on a vision-sound-haptic interface", Proceedings of HAID 2010 (Haptic Audio Interaction Design), LNCS 6306, pp. 169–178, R. Nordahl et al. (Eds.), Copenhagen (Denmark), 16-17 September 2010, Springer, doi: http://dx.doi.org/10.1007/978-3-642-15841-4_18

M. Bordegoni

, U. Cugini,"Multimodal perception-action interaction for the exploitation of enactive knowledge" Proceedings of the ASME International Design Engineering Technical Conferences and Computers and Information in Engineering Conference 2009, DETC2009, 2 (PART B), pp. 983-990, 2009.

M. Bordegoni

, U. Cugini, P. Belluco, M. Aliverti, "Evaluation of a haptic-based interaction system for virtual manual assembly", Lecture Notes in Computer Science (including subseries Lecture Notes in Artificial Intelligence and Lecture Notes in Bioinformatics), 5622 LNCS, pp. 303-312, 2009.

M. Bordegoni

, F. Ferrise, M. Covarrubias, M. Antolini, "A Linear Haptic Interface for the Evaluation of Shapes", ASME 2009 International Design Engineering Technical Conferences (IDETC) & Computers and Information in Engineering Conference (CIE), S. Diego, CA, USA, Agoust 30 - September 2, 2009, doi: http://dx.doi.org/10.1115/DETC2009-86953
S. Valtolina, P. Mussio, B.R. Barricelli,

M. Bordegoni

, F. Ferrise, M. Ambrogio, "Distributed knowledge creation, recording and improvement in collaborative design". 2nd International Symposium on Intelligent Interactive Multimedia Systems and Services-KES IIMSS 09. Mogliano Veneto, Italy, 16-17 Jul. 2009, doi: http://dx.doi.org/10.1007/978-3-642-02937-0_4

M. Bordegoni

, F. Ferrise, M. Ambrogio "Haptic Interaction and Interactive Simulation in an AR environment for aesthetic product design"HCI International 2009, San Diego, CA, USA, 19-24 Jul. 2009, doi: http://dx.doi.org/10.1007/978-3-642-02771-0_33

M. Bordegoni

, F. Caruso, F. Ferrise, M. Ambrogio, "An Integrated Environment for Shape Modeling and Fluid-dynamic Analysis"International Conference on Research into Design, ICoRD'09, Bangalore, India 7-9 Jan., 2009
M. Mengoni, M. Peruzzini, F. Mandorli,

M. Bordegoni

, G. Caruso, "Performing ergonomic analysis in virtual environments: A structured protocol to assess humans interaction" 2008 Proceedings of the ASME International Design Engineering Technical Conferences and Computers and Information in Engineering Conference, DETC 2008, 3 (PART B), pp. 1461-1472, 2008.

M. Bordegoni

, U. Cugini, "Issues on aesthetic shapes perception for the development of new design tools", Proceedings of the ASME International Design Engineering Technical Conferences and Computers and Information in Engineering Conference, DETC 2008, 3 (PART B), pp. 829-839, 2008.

M. Bordegoni

, F. Ferrise, S. Shelley, M. A. Alonso, D. Hermes, 'Sound and Tangible Interface for shape Evaluation and Modification', HAVE 2008 - IEEE International Workshop on Haptic Audio Visual Environments and their Applications Ottawa, Canada, 12-14 Oct. 2008, doi: http://dx.doi.org/10.1109/HAVE.2008.4685315

M. Bordegoni

, F. Ferrise, M. Ambrogio, F. Bruno, F. Caruso, "A Multi-layered Modelling Architecture for Virtual Design". Proceedings of IDMME - Virtual Concept 2008 Beijing, China, 8-10 Oct. 2008

M. Bordegoni

, F. Ferrise, M. Ambrogio, G. Caruso, F. Bruno, F. Caruso "Mixed-Reality Environment based on Haptics and Interactive Simulation for product design review". 20th European Modeling and Simulation Symposium (Simulation in Industry) Campora San Giovanni, Amantea (CS), Italy, 17-19 Sep. 2008

M. Bordegoni

, G. Caruso, F. Ferrise, "Mixed-Reality Environment based on Haptic Control System for a tractor cabin design review". CIRP Design Conference, Enschede, 7-9 Apr. 2008
M. Mengoni, M. Germani,

M. Bordegoni

, "Virtual reality systems: A method to evaluate the applicability based on the design context" Proceedings of the ASME International Design Engineering Technical Conferences and Computers and Information in Engineering Conference, DETC2007, 6 PART B, pp. 1377-1387, 2007.

M. Bordegoni

, U. Cugini, "Haptic interface for real-time evaluation and modification of shape design", Proceedings of the ASME International Design Engineering Technical Conferences and Computers and Information in Engineering Conference, DETC2007, 2 PART A, pp. 579-586, 2007.
G. Caruso, U. Giraudo, F. Ferrise,

M. Bordegoni

, "Haptic Control Sytem of a Tractor Cabin". HCI International 2007, Poster Session, Beijing, 22-27 Jul. 2007

M. Bordegoni

, U. Cugini, "Designer-centered haptic interfaces for shape modeling", Lecture Notes in Computer Science (including subseries Lecture Notes in Artificial Intelligence and Lecture Notes in Bioinformatics), 4563 LNCS, pp. 441-450, 2007.
G. Caruso, U. Giraudo, F. Ferrise,

M. Bordegoni

, "Ergonomic interactive testing in a mixed-reality environment", Proceedings of HCI International 2007, Beijing, 22-27 Jul. 2007, pp. 431-440, ISBN 978-3-540-73334-8, doi: http://dx.doi.org/10.1007/978-3-540-73335-5_47

M. Bordegoni

, U. Cugini, "A conceptual design tool based on innovative haptic interfaces", Proceedings of the ASME Design Engineering Technical Conference, 2006.

M. Bordegoni

, U. Giraudo, G. Caruso, F. Ferrise, "Ergonomic tests in mixed environments: integration of VR and physical control devices", Research in Interactive Design, Vol. 2, Proceedings of Virtual Concept 2006, Playa del Carmen – Cancun (Mexico), 26 Nov.–1 Dec. 2006, ISBN 2-287-48363-2

M. Bordegoni

, U. Cugini, "Create free-form digital shapes with hands", Proceedings - GRAPHITE 2005 - 3rd International Conference on Computer Graphics and Interactive Techniques in Australasia and Southeast Asia, pp. 429-432, 2005.
U. Giraudo,

M. Bordegoni

, "Using observations of real designers at work to inform the development of a novel haptic modeling system", Proceedings of the Seventh International Conference on Multimodal Interfaces, ICMI'05, pp. 230-235, 2005.

M. Bordegoni

, G. Cascini, S. Filippi, F. Mandorli, "A methodology for evaluating the adoption of knowledge and innovation management tools in a product development process", Proceedings of the ASME Design Engineering Technical Conference, 3, pp. 595-602, 2003.
O. Rogalla, R. Dillmann, G. Frugoli,

M. Bordegoni

, "General approach for simulating robots for flexible material handling", Proceedings of the IEEE International Symposium on Assembly and Task Planning, pp. 211-218, 1999.

National Conferences

U. Cugini,

M. Bordegoni

, G. Caruso, F. Ferrise, "Multimodal interaction based on Haptic Control Systems for Human-Vehicle interfaces validation" , Workshop on Multimodal Interaction Through Haptic Feedback – MITH2008, Napoli, Italy, 31 May, 2008

M. Bordegoni

, F. Ferrise, G. Caruso, M. Ambrogio, F. Bruno, F. Caruso, 'Environment based on Augmented Reality and interactive simulation for product design review'. 6th Eurographics Italian Chapter, Salerno, 2-4 Jul. 2008


M. Bordegoni

, G. Caruso, F. Ferrise, U. Giraudo, "A mixed environment for ergonomic tests: tuning of the stereo viewing parameters", Proceedings of Fifth Eurographics Italian Chapter Conference 2007, Trento 14-16 Feb. 2007 pp. 127-134 ISBN 978-3905673-62-3
Some videos related to the research activities of my group in which I have been involved:
SATIN project (2009)
SATIN project youtube channel (
www.youtube.com/user/SATINproject
)
PUODARSI project (2008)
H3DAPI youtube channel (
www.youtube.com/user/H3DAPI
)
PROGIMM project (2008)
KAEMaRT youtube channel (
www.youtube.com/user/kaemart
)
Master Thesis on multimodal interaction with a virtual prototype (2010)
KAEMaRT youtube channel (
www.youtube.com/user/kaemart
)