Umberto Cugini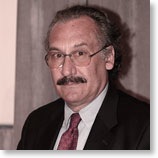 Umberto Cugini holds a Degree in Mechanical Engineering - Politecnico di Milano and a Master Degree in Management and Business Administration from Università Bocconi.
HE IS CURRENTLY
• Full Professor of Machine Design, CAD and Virtual Prototyping, Faculty of Industrial Engineering, Politecnico di Milano
• Coordinator of the project MUR-FIRB-Made in Italy
• Chairman of IFIP WG 5.2. (Computer Aided Design) since August 2000
• Author of more than 250 scientific papers published in national/international journals and conference proceedings
• Member of the Editorial Board of "International Journal for Manufacturing Science & Production"
• Member of the Board of Directors of Fondazione Politecnico
HE HAS BEEN
• Deputy coordinator of the European project FP6-IST SATIN (Sound And Tangible Interfaces for Novel product design)
• Coordinator of the PhD program on "Virtual Prototypes and Real Products", Politecnico di Milano, since the XVII edition
• President of Consorzio Politecnico Innovazione
• Coordinator of the European project FP6-IST T'nD (Touch and Design)
• Director of Progetto Finalizzato Robotica – CNR, 1988-1996
• Coordinator of the PhD program on Industrial Production Engineering - Univ. Parma, VIII-XVI editions